The Tennessee Workers Compensation Firm – Proven Results
The Higgins Firm has earned a reputation in Tennessee as a leader in the field of Workers' Compensation Law . The firm was created by Jim Higgins, a former insurance defense attorney. Although his career began by defending insurance companies and corporations, Mr. Higgins and the firm now only represent employees. The lawyers in the firm have successfully represented injured workers throughout Tennessee. They have successfully argued countless cases in the trial courts and appellate courts.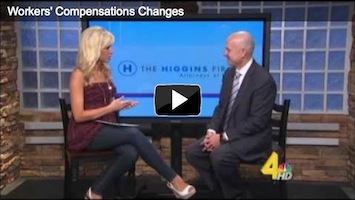 Local NBC affiliate interviews Jim Higgins regarding updates to the Tennessee Workers compensation law
---
Our firm is proud of the fact that a majority of our cases come from previous clients and other attorneys. We believe this is a positive reflection of the results we have obtained and our leadership in the workers compensation legal community. Having a reputation as knowledgeable and zealous advocates can help obtain the most optimal results for our clients. We have worked hard to earn our reputation in this field and we will continue to work hard to maintain the respect of our clients and the legal community.
Send Us Your Workers Comp Questions
If you have been injured at work , it is important to know what rights you have under the Tennessee Workers' Compensation Act. This site is designed to give you some basic information regarding those rights. Of course, the law is always changing and workers compensation cases can often be complicated. Injured workers can benefit greatly by having a seasoned work comp lawyer in their corner. If you feel that you need the assistance of an attorney, please feel free to contact our office to discuss your case.
Why Act Now?
Often employees are reluctant to file a worker's compensation claim or contact an attorney because they are afraid their employer will fire them or they just are not "the type to sue". Remember that employers are required to carry workers compensation coverage to help an injured employee obtain needed medical care and to survive financially while they are unable to work. The employer has paid insurance premiums to protect the injured employee and an injured employee should not be reluctant to benefit from the coverage. Further, there are strict deadlines in workers compensation cases. If the employee fails to meet certain notice deadlines, they can lose their right to benefits. The employee should not hesitate to file a claim so they can get the medical care and financial assistance they need. Additionally, Tennessee law protects employees from employer retaliation. The Higgins Firm offers a free initial consultation to explain the workers' compensation process and the benefits you are entitled to. It is difficult to know if you are being treated "fairly" unless you know your rights under the Tennessee Workers Compensation law.
Client Reviews
"Tragedy struck our family in February when I was burned in a chemical fire at work. Thankfully we found Jim Higgins at a time when we needed him most. Jim advised us every step of the way. He was always professional, attentive, caring, prompt, compassionate and encouraging. He was always honest and straight forward with us and took great effort in meeting our needs. Jim and his team empowered us through one of the toughest time in our lives. Now we can move on knowing we were represented well."